OpenBCI 8bit Board (no longer in production)
8bit Board Specs:
Power with 6-12V DC Battery ONLY
ATmega328P Microcontroller with Arduino UNO bootloader
ADS1299 Analog Front End
LIS3DH 3 axis Accelerometer
RFduino BLE radio
Micro SD card slot
Voltage Regulation (5V, 3V, +2.5V, -2.5V)
SN74LVCC3245A Level Shifter
Board Dimensions 2.41" x 2.41" (octagon has 1" edges)
Mount holes are 1/16" ID, 0.8" x 2.166" on center
Breakout pins:
ICSP pins on 5V side for bootloading ATmega

MISO, MOSI, SCLK, 5V, MCLR, GND

Serial pins for programming RFduino
SPI bus pins on the 3V side for Daisy Module expansion

DVDD, GND, MISO, MOSI, SCK, CS, CLK, RST

Unused ATmega pins

A0, A1, A2, A3, A4, A5, A6, A7
The SPI bus pins on 3V side include CLK, which is tied to the ADS1299 CLK pin for timing the Daisy Module, and a RST pin which is tied to the ADS1299 MCLR pin for hardware reset of the ADS. The A0 to A5 pins can be used as Analog inputs or Digital Input|Output just like on Arduino UNO. A6 and A7 are Analog input only.
Push Button
Pushbutton switch is RESET for ATmega.
Slide Switch
Slide switch is power for the board. The slide switch has three positions:
BLE activates a pull-up on RFduino pin 4

OFF disconnects the battery input

PC does NOT activate pull-up on RFduino pin 4

NOTE: BLE|PC selection is NOT implemented!
Switching either BLE or PC will produce the same result. The option is available for future development...
OpenBCI 8bit Board Circuit Schematic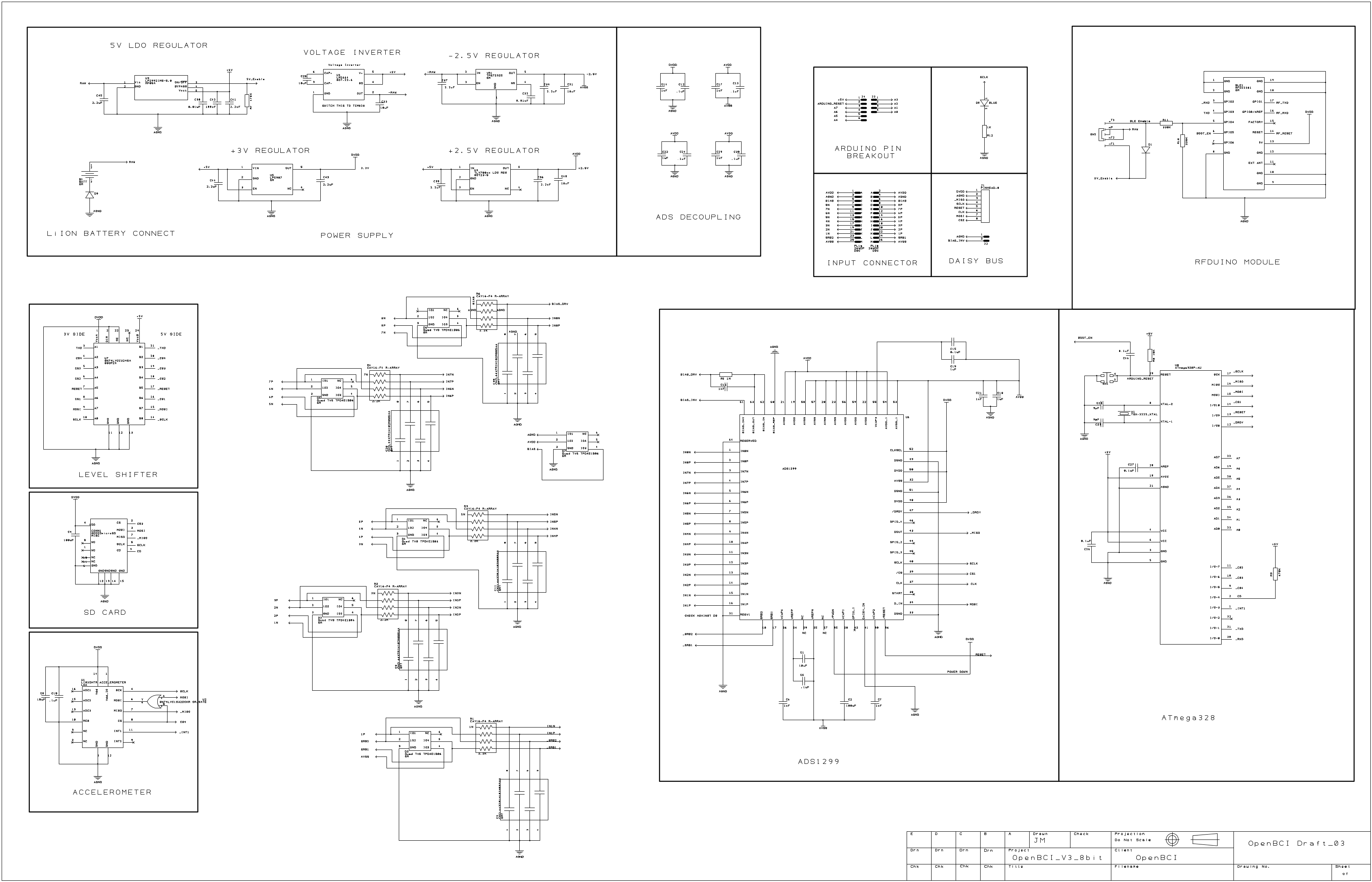 8bit Board PCB Layer Images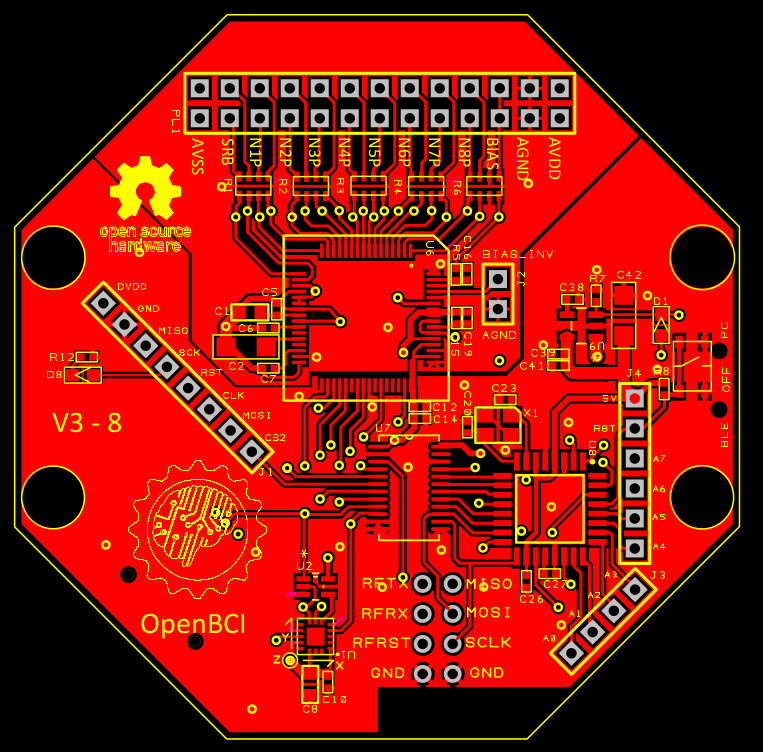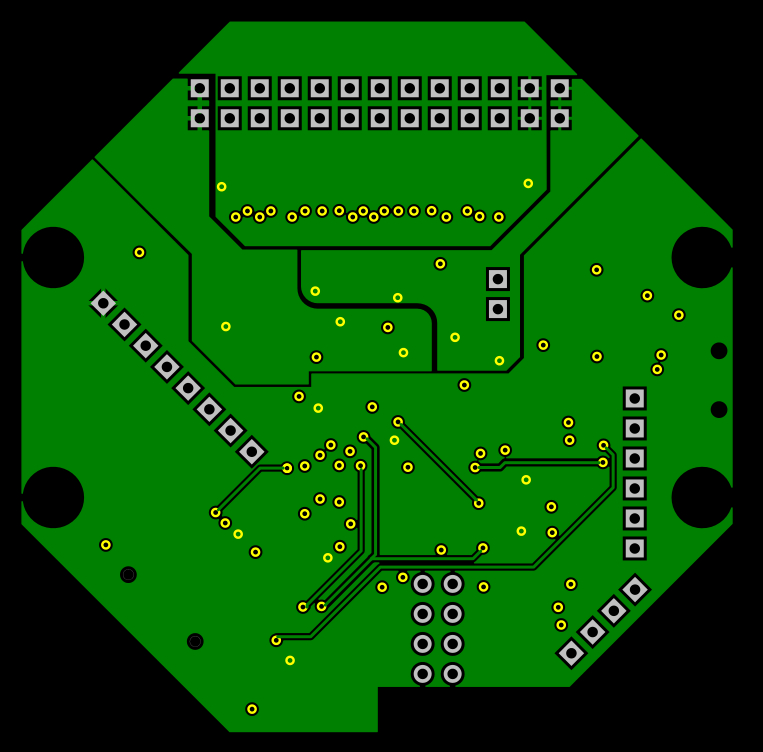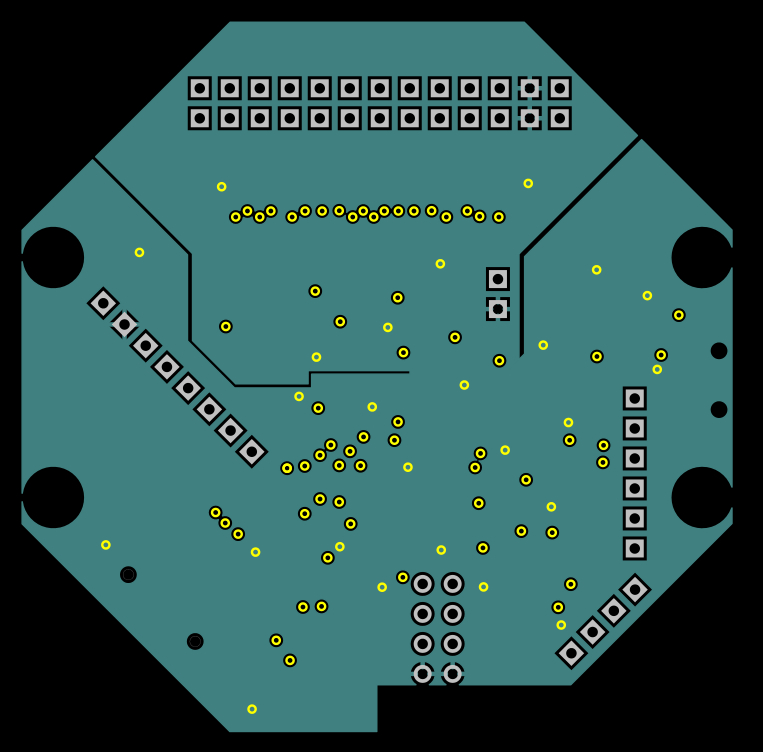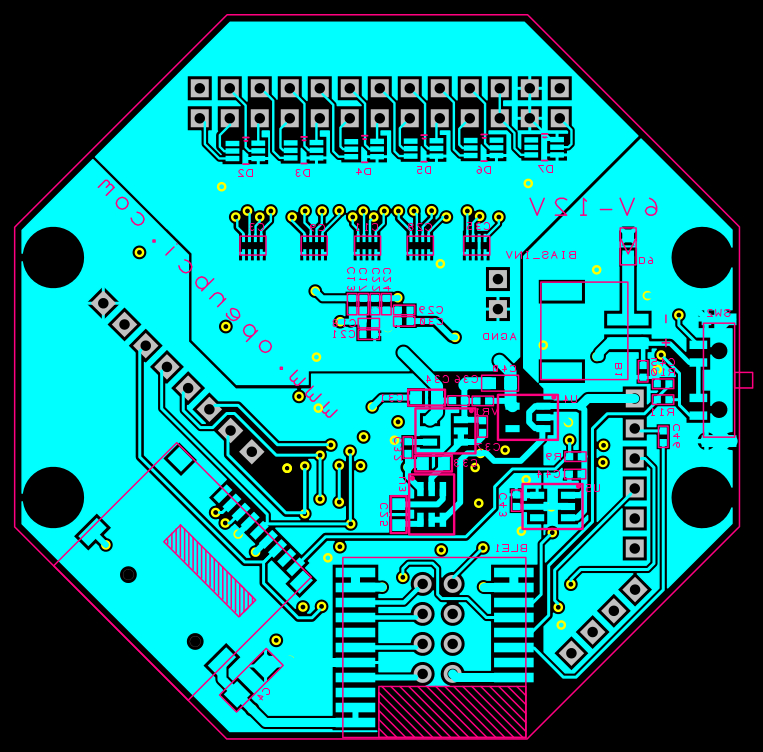 8bit Board PCB Files