Overview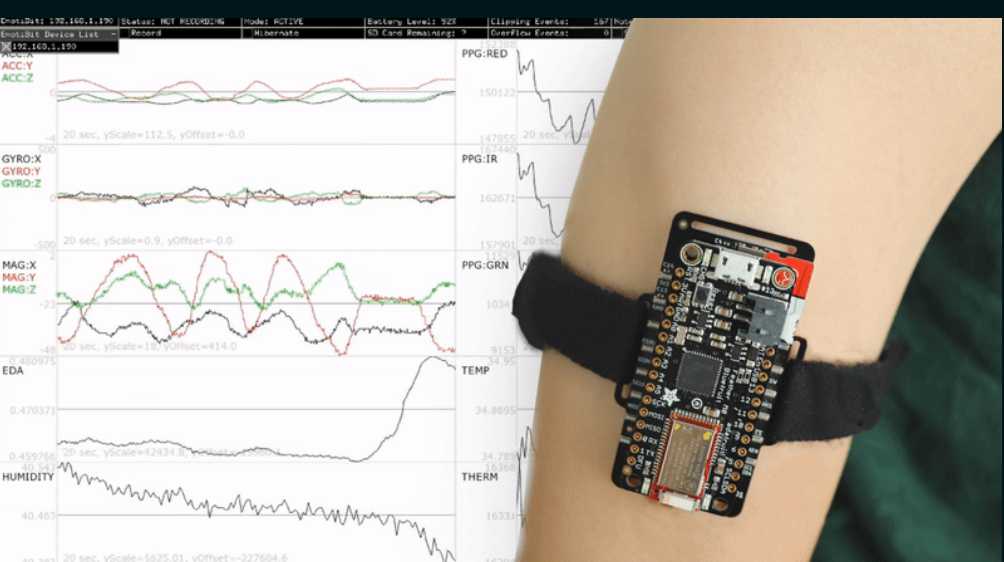 EmotiBit is a wearable sensor module for capturing high-quality emotional, physiological, and movement data. Easy-to-use and scientifically-validated sensing lets you enjoy wireless data streaming to any platform or direct data recording to the built-in SD card.
Materials Needed
EmotiBit Emo Board OR MD Board
Adafruit Feather
Lithium Battery
MicroSD Card
Purchase the EmotiBit + Kit or the All-in-One EmotiBit Bundle to receive these materials in one order!
How to use it

1. Stack
Stack EmotiBit with any Adafruit Feather module, insert an SD card, and plug in a battery.
2. Sense
Place EmotiBit almost anywhere on the body and launch the visualizer to start viewing physiological data.
3.Stream
Save data to an SD card, stream via LSL, OSC, TCP, etc, or open up the code and do anything you want!
Head to the EmotiBit Github for complete guides and documentation. Happy sensing!